Chestnut Sustainable Restoration Project
Through our Sustainable Restoration Project, we develop new forests on marginal crop and pasture lands across the United States. We designed our project to restore diverse, natural ecosystems—improving air and water quality and supporting wildlife suitable to each site. We work with local foresters, landowners, nurseries, and specialists to plant a biodiverse array of hardwood and pine seedlings, optimized for each region's soil, drainage, native species, and community land use. We thoughtfully design, plant, and monitor each site to ensure high survivorship.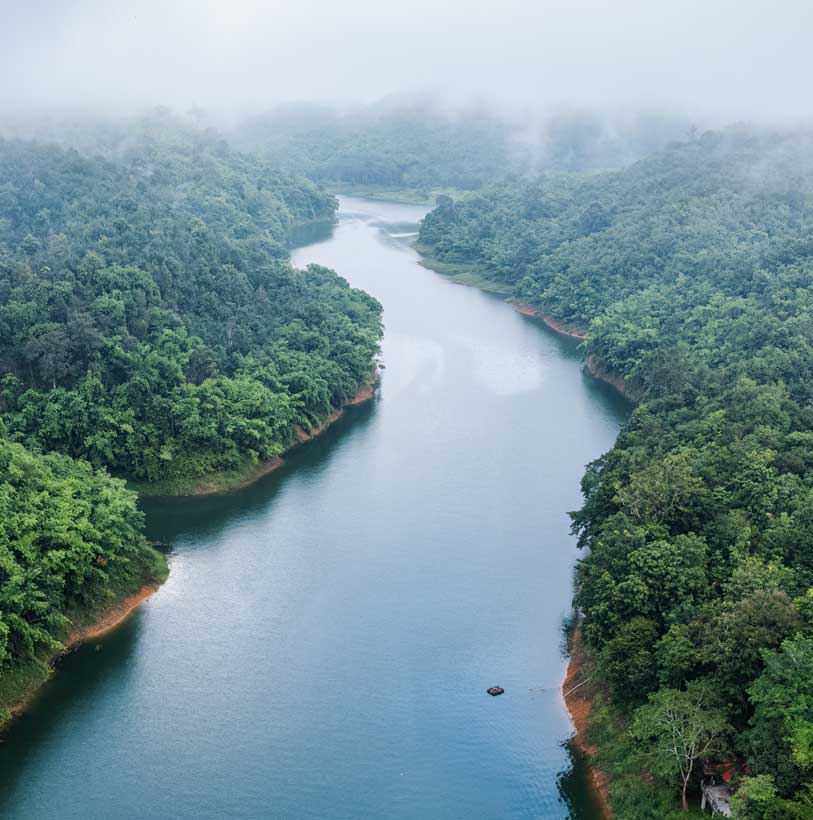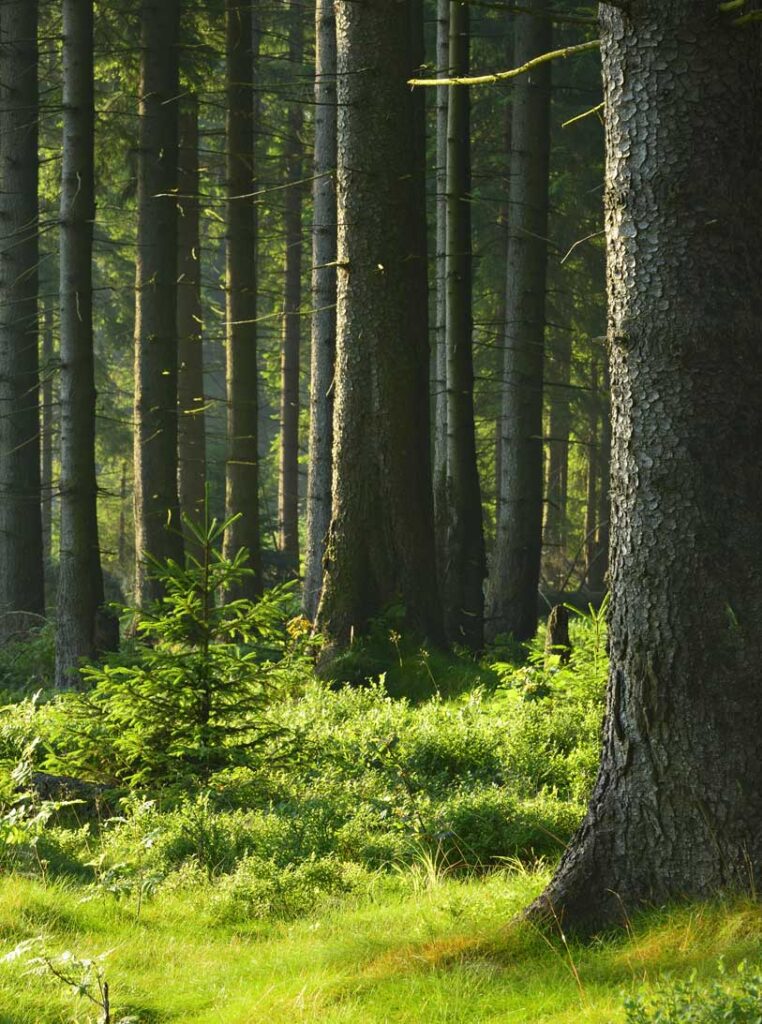 Chestnut Sustainable Restoration project
These projects back our high-quality, removal-based carbon credits.
After five years of monitoring, we begin measurement of the carbon stocks sequestered within the trees, verifying our measurements with the rigorous verification standards of Gold Standard®. Our proprietary technology allows us to measure carbon sequestration quickly and accurately, requiring far less time and expense than traditional methods.
We're committed to the durability of our developments. Chestnut Carbon stands behind the durability of our projects in our ownership of afforested lands, and relies on best practices in forestry management to mitigate potential risks from fire, disease and other issues.
Chestnut Restoration Project: Our Planted Land Parcels

Gold Standard for the Global Goals®
The Gold Standard® is the leading certification program for voluntary carbon-offset projects that measures, reports, and tracks the benefits of climate and development interventions. These standards, established under the Paris Climate Agreement and the United Nations Sustainable Development Goals, help to quantify the social, economic, and environmental benefits of each program.

The Gold Standard Difference
Chestnut has chosen to partner with Gold Standard® for our afforestation crediting process, as we believe they have the most rigorous and comprehensive verification program available today.
Gold Standard® takes a unique approach to land use activities that sequester carbon or avoid GHG emissions, focusing only on mechanisms that can deliver a high level of environmental integrity.
To ensure environmental integrity, Gold Standard® does not issue carbon credits for REDD+ projects because of concerns about environmental integrity, including the ability to control leakage (when deforestation activities simply move to another area) and risks for overestimation of credits due to baseline uncertainty.
Environmental integrity encompasses numerous factors, including conservative accounting, avoiding leakage, and ensuring permanence.
Conservative accounting
Avoids risks for overestimation of credits due to baseline uncertainty.
Avoiding leakage
Gold Standard® rules for forestry projects explicitly ensure projects don't cut down trees to make room for new plantations.
Ensuring permanence
Gold Standard® requires a fixed 20% contribution for a pooled compliance buffer, which, unlike other standards, remains untouched even after the crediting period of the project. This further reduces the risk of reversal and impermanence.
Gold Standard® is the only credit issuer to include Safeguarding Principles in its verification process.
These Safeguarding Principles work to protect the community by assesses potential environmental and social impacts and implementing mitigation measures where necessary.
For land use activities, this means following safeguarding principles that protect water resources, soil erosion and degradation, access to food, livestock wellbeing, and areas with a high conservation value.

Forest Stewardship Council®
The Forest Stewardship Council (FSC®) is a global nonprofit leader in sustainable forestry that is trusted by NGOs, businesses, and consumers to protect healthy, resilient forests for all, forever.
FSC® operates the world's most rigorous, trusted forest certification system. Its "check tree" label, found on millions of products worldwide, verifies sustainable forest land management.
Quality
We're committed to responsible afforestation at scale, certified to the highest standards. Responsibility means creating value for rural communities and native ecosystems alike.
Quality starts with the right project design
We're committed to responsible afforestation at scale, certified to the highest standards. Responsibility means creating value for rural communities and native ecosystems alike. We work with regional experts to design a custom plan for each land development, ensuring the highest quality of the end product – the forest we're building.
Optimizing our seedling planting based on local soil, native species, water availability and other factors.
Utilizing data models that predict growth patterns and duration by species, ensuring our forests deliver the expected carbon removal credits.
Mitigating risks based on the local environment and ecosystem, including planting non-contiguous parcels to avoid fire and disease risk, planting biodiverse species, and planning for local wildlife.
Engaging local stakeholders: We engage local experts and communities to inform them of our development plans and seek their input and partnership. We ensure co-benefits to the community that only nature-based solutions enable.
The Result
Climate action is only part of the story.
Our projects will benefit rural communities, increase biodiversity, and support regional economies. We measure these outcomes against the standards set by the United Nations Sustainable Development Goals for the planet.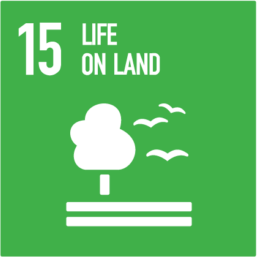 Life on Land
Protect, restore, and promote sustainable use of terrestrial ecosystems, sustainably manage forests, combat desertification, and halt and reverse land degradation and halt biodiversity loss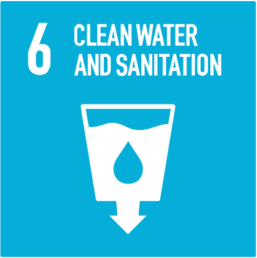 Clean Water and Sanitation
Ensure availability and sustainable management of water and sanitation for all
Climate Action
Take urgent action to combat climate change and its impacts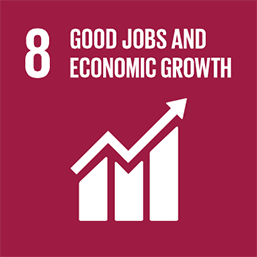 Good Jobs and Economic Growth
Promote sustained, inclusive and sustainable economic growth, full and productive employment, and decent work for all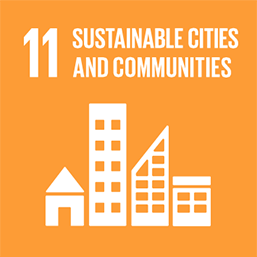 Sustainable Cities and Communities
Make cities and human settlements inclusive, safe, resilient, and sustainable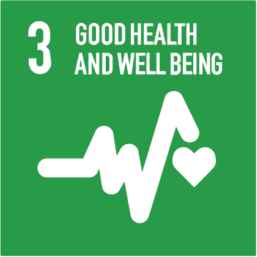 Good Health and Well Being
Ensure healthy lives and promote wellbeing for all, at all ages

Forest restoration across the United States, starting in the Southeast
In our first annual cycle, we planted on more than 6,000 acres of marginal land in Arkansas and Alabama. We plan to reach 500,000 acres of restored forest by 2030, constituting more than 250 million new trees.
Beyond Planting Trees
We augment our projects with special activities to improve long-term outcomes.
We work closely with the local communities and forestry experts to create the healthiest and most ecologically sound planting strategy. Beyond that, we look to deliver a variety of benefits to the community and environment.

Safeguarding Principles, Mitigating Risk
We support the principles of the nonprofit Forest Stewardship Council (FSC®) to protect people and the environment. FSC®, a global leader in sustainable forestry, manages the world's most rigorous and trusted forest-certification program.
Chestnut's projects adhere to best practices for water conservation–prohibiting obstruction of water flow, limiting use of surface water, and preventing wastewater discharge. We also work continuously with stakeholders to mitigate potential risk.

Contribute to the project as a key stakeholder.
We seek stakeholder input in project design and other areas, and offer several ways to get involved.